Fits Up To 12 People
Full day is from 8:30-9am to 4:30-5pm.
Half day choose 8:30am-12:30pm – or 1pm-5pm.
Twin 300 Yamaha 4-Strokes – Offshore fishing beast! This 29' Nautic Star comes equipped with twin 300 Yamaha 4-strokes, dual Garmin GPS and bottom machines. huge live wells, plenty of fish boxes, radar, autopilot, and much more.
Full-Day from $795
Multi-Day – click below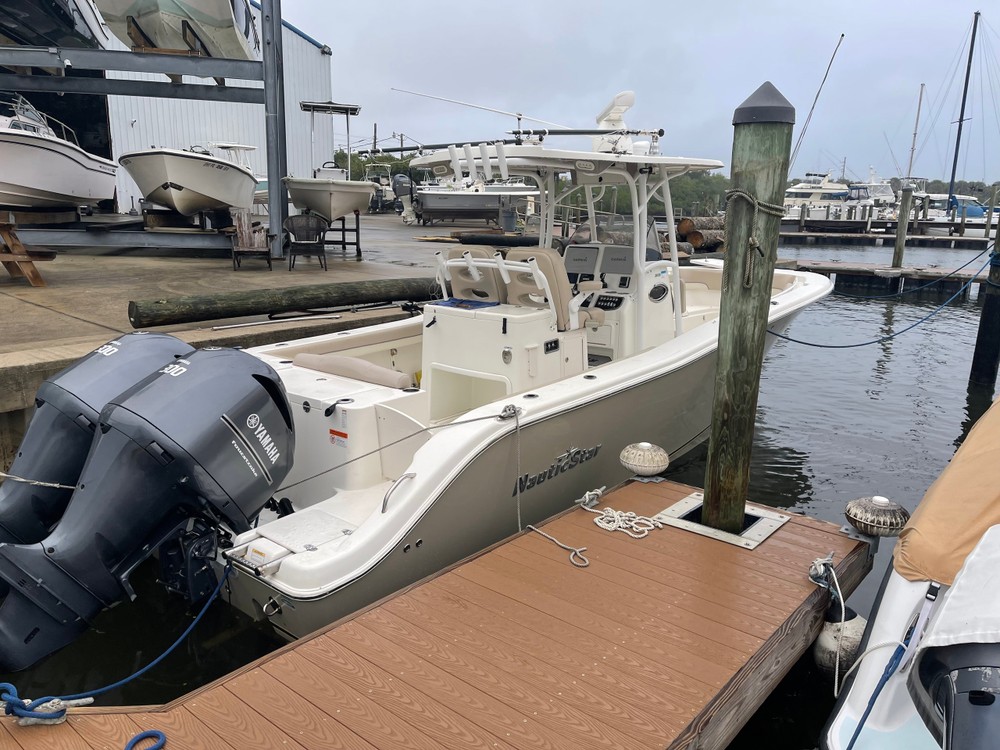 Questions before booking? For the fastest service, please TEXT us at 305-209-2725.

If you need to modify an existing reservation please call the phone number in your confirmation email.
---
If you can't select your desired boat on the booking page, it is not available for your selected date. Please select a different boat or date.
Upon booking, you'll immediately receive a confirmation email and receipt.
If you need to modify or cancel your reservation, please call the phone number in your confirmation email.
Rentals depart from Breezy Palms Resort & Marina, 80015 US-1, Islamorada, FL 33036.
---
Boat Rental – Important Information
Rental Requirements
You must be 23 years of age to rent a boat & have previous boating experience.
The boat must remain within a 15-mile radius of the dock. For multi-day rentals, any overnight docking must be approved by management.
If you were born on or after January 1st, 1988, and at least 18 years of age, you must pass a Florida Boaters' Safety test to drive. You can take the test online for $8.99.
Boaters wishing to rent a boat or a PWC in Florida, who do not possess a Boating Safety Card, need to take the Temporary Certificate to be able to rent and operate a boat in Florida. You can take the test online for $8.99.
Safety instructions will be given in English. For the safety of our guests, all participants must be able to understand and speak English in order to participate.
You are required to bring the credit card used for the purchase with you as an extra measure to protect against fraud.
A credit card authorization for $1000 is required for the deposit.
Guests are responsible for gas. The boat will be filled back up at the marina.
Dive tanks are not allowed on rental boats per Florida state law.
Rental Agreement
By renting this boat, you confirm that you have experience operating a vessel and can handle any situation that may arise, including navigating shallow water hazards, in strong winds and changing currents, and around other boats. You also confirm that you know and will follow all posted signs and channel markers.
You AGREE that should you damage the boat you rented OR another boat or property not owned by Sand Dollar Boat Rentals, you will be solely responsible for the cost of repairs and/or the cost of Boat U.S. assistance in towing you back to our dock. This charge could be as high as $1000 per incident.
Sand Dollar Boat Rentals insurance DOES NOT cover the cost of towing you or damage caused by you because of negligence or failure to disclose your experience with operating a boat prior to leaving our dock.
Swimming and Snorkeling Rules
If you go swimming, snorkeling, or diving, always anchor the boat first and display your dive flag.
If anyone gets off the vessel to swim, snorkel, or dive, you must leave one person on the vessel to keep watch!
About This Trip
4 or 8-hour or multi-day boat rental.
Pick up as early as 8:30 am.
Customers will receive a full refund or credit with 96 hours' notice of cancellation. Customers will also receive a full refund or credit in case of operator cancellation due to weather or other unforeseen circumstances. Call the phone number in your confirmation email to inquire about a cancellation. No-shows will be charged the full price.
Departure & Return Details
Points of Interest
World-class boating destinations
Alligator Reef Light – 3.5mi
Islamorada Sandbar – 3.5mi
Robbie's of Islamorada – 2.5mi
Cheeca Rocks Reef – 1.5mi
Indian Key State Park – 2mi
Easy bayside access to all restaurants – 1.5mi